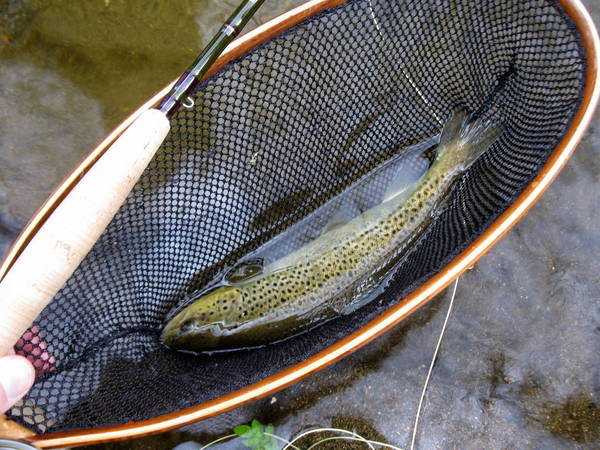 First Helios Trout/First Trout of the "Season"
I made my Opening Weekend trip to play with the stockies. I fished the heavily stocked portion of the Pootatuck for a few hours Sunday evening. Based upon the multitude of footprints on the banks and the lack of schooling fish I suspect this stretch must have gotten hammered in the prior 24 hours. I'm sure many buckets of stocked trout were bound for grills around town.
I started in a well known pool fishing a tried and true emerger pattern that didn't get a sniff of interest. I then switched to a #12 Yellow Stimulator and a chartreuse Copper John. I quickly got and missed two strikes. Two thumbs up for attractor patterns!
I managed my first stocked fish of the season on the dropper. It was a nice healthy brown, probably 14 inches or so that fought like a champ. This was my first trout on the new Helios 4wt so now it was duly christened and I celebrated with the lighting of an Arturo Fuente Hemingway and a nip of highland spirits. A few more drifts through the pool yielded a couple more strikes on the dropper that shook off quickly.
Moving up into a small riffle I quickly got interest in the Stimulator and shortly had another fat brown on the Stimulator. I picked up another Brown in virtually the same spot on the Copper John. Again, another cookie cutter 12-14 inch fish. Both fish fought well.
I fished through the next pool as a few rain squalls blew through. Fortunately, I had thought to put a fleece on before leaving the house, but the cool, damp wind cut a bit. Opening Day has a warm days and sunny skies expectation etched in my mind so the weather was a bit demoralizing. But then the weather was keeping less hardy souls at home and allowing me solitude on a normally crowded stretch of water.
The banks and tail of this pool held their secrets, if any, but the head of the pool allowed me to pry a few fish from their lies. One Brown each for the Copper John and the Stimulator plus a few strikes on the Copper John that either shook off quickly or came and went like lightning.
I then swung downstream and fished some faster water. I managed a small Brown on the Copper John in water that plunged into a series of funnels that I would have thought too fast to provide a good lie. Further up I got a few more strikes that gave me nothing more than a tug or two for my reward.
So, for a few more days, the stocked trout are there but soon the meat fishers will move in and clean out this section of the willing trout. That said, it was nice to do an evening of easy fishing.