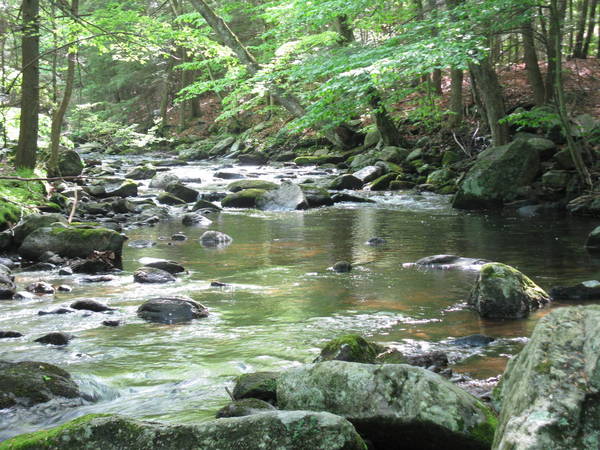 Frustration Pool, Noname River
I returned to a river near my home this past weekend. It is a small river that holds a mixed population of trout, mostly Browns and Rainbows. It is not stocked by the state but there are plenty of escapees from upstream clubs and downstream impoundments. There's also a healthy in stream breeding population though they're mostly long lean fish. It's tough living in this high gradient stream
One of the benefits of this stream is that generally no waders are necessary. There's little understory to snag a cast so casting from the bank is possible. And there are plenty of small gravel bars to wade onto with waterproof boots. I left my hippers sitting by the bank and while my feet got wet from the few occasions when the water got over my boots, it wasn't too bad.
I started at a broad open pool that once yielded a fat Rainbow. Today was not to be a repeat. I hooked several small trout on the PT dropper under a Stimulator. They all shook off easily. I was tormented several times by a dark backed trout that took a swat at the Stimulator. I was hoping I'd find it to be a larger Brookie but he never got on the line and remains in the pool's depths.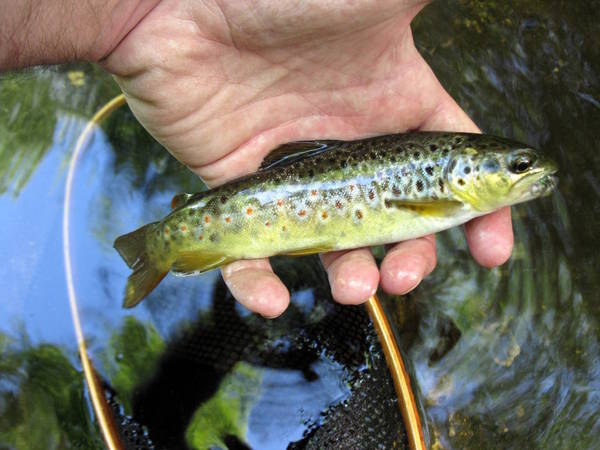 A Brown Trout's Brother
I worked my way up and downstream nymphing the small pockets and runs with the dry-dropper rig. After a half hour or so of no action I changed up to a Soft Hackle Lightning Bug under a small Thingamabobber. That was the ticket. In one pocket I took the two biggest fish of the day. An eight inch Brown and his twin brother.
I also managed a handful of small browns with fresh parr marks. So, there's a good breeding population in the stream though they're all long and lean. That tells me that life is not easy in this small river.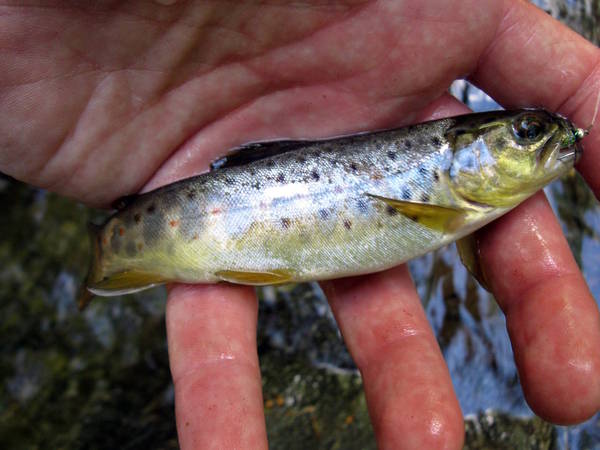 Brown Trout w/parr marks
The trout in the below pool were the most accommodating. The flow is swift and they have to take what they can get. Very nice.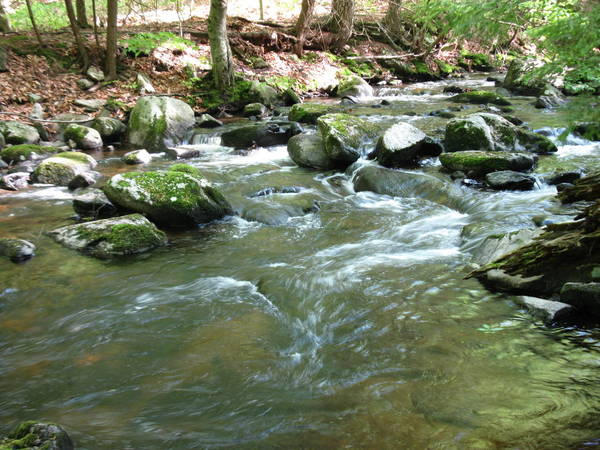 Quick and Easy Pool
While I was fishing, the wind came up quickly. Lots of small branches were falling about and splatting in the water. About 20 yards down stream from where I was fishing at that moment there was this loud crack and a thirty foot maple tree crashed into the river. It was not more than twenty feet from where my hippers sat on the bank. Every subsequent creak and crack in the forest had me looking over my shoulder.
It was a splendid afternoon to be out on a small stream.