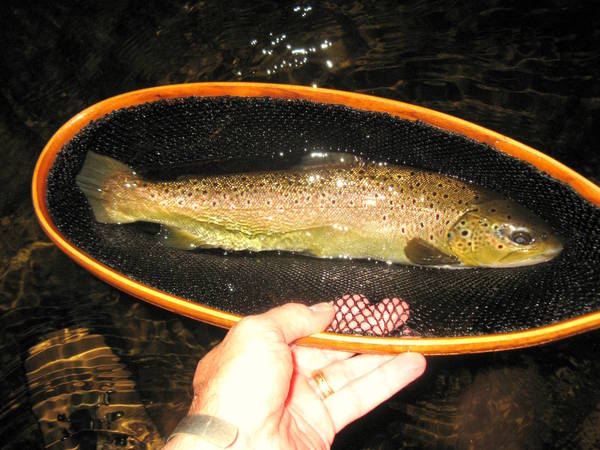 Prior to Saturday, I hadn't fished the Farmington yet this calendar year. I've been focused on the Housy for no particular reason though the lessons that Don and Jon gave me last fall on certain pools probably has something to do with it. That and the fact I was catching fish pretty regularly.
The higher temperatures and lower flows on the Housatonic over the past week or so lead me to head further east last night to the Farmington. I can't recall the last time I fished the Farmy but it was probably last fall after Ross returned from Iraq. The fishing was slow though Ross got enough action to shake the desert dust that had accumulated in his fishing memories.
The first thing that struck me as I approached the water was that burst of cold air that swirls above the tailwater. You don't get the temperature gradient practically anywhere else I've fished in Connecticut. Sometimes on a late summer evening on a small, spring fed stream. But never in this volume. It's massive coolness. It also has an unmistakable smell -- earthy mixed well with something that says "trout live here".
I started at 5:30 pm in a run above a popular pool I had fished last year with some success. As I walked upstream I found a vest and rod leaning against a tree in the middle of no where. It turns out they belonged to a guy who had made a quick trip to the car to get a sandwich. He seemed truly surprised to see me fishing the run when he returned. Perhaps he felt his totem was enough to ward off anglers. I left him to his guarded water and fished up near the head of the pool. Perhaps the totem worked after all.
Thirty minutes yielded nary a bump on either a dry or nymph so I headed down into the TMA for other water that generally fished well. Again I started in a run where nymphing was productive but with only two bumps and fish on only briefly I heard the beckoning of some nice dry fly water just below the next riffle.
There was a spin guy fishing the head of the pool catching fish pretty regularly. I sat and chatted with him a bit while finishing a Hemingway and ensuring my flask was not lonely. He's heading up to Alaska in early July for his trip of a lifetime and was pretty excited. Two weeks of river and lake fishing where the sun never sets and the fish grow large. I couldn't help but smile to hear the joy in his voice.
I started casting in earnest to the sporadic rises around 7:30 p.m. The was a sparse mix of Sulphurs, March Browns and Caddis in the air so I went with a #16 Sulphur emerger and was quickly into fish. A couple of near misses and then a nice feisty 12-14 inch Rainbow.
The next fish was a joy. He hit the fly with a take that was so subtle if the light wasn't at just the right angle I would have missed it. I saw him rise deliberately to the fly turning downstream to intercept it and then with a gentle suck take the fly from the surface without a disturbance. He was then off like a bullet and only by tightening my drag a bit and walking downstream a dozen yards did I begin to tame him. While I would have sworn him larger based upon his heft on the rod the Brown Trout taped out at just a hair over eighteen inches.
I managed a near copy of the Brown a short while later and then the gathering darkness and a promise to be home had me moving back to the car leaving fish rising for next time.