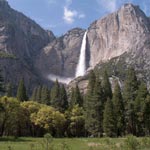 Off to Yosemite tomorrow evening. I've got two dozen meetings between now and starting to pack. I'll post daily updates about the trip. Looking forward to relaxing, fishing, hiking and exploring.
My excuse for not writing anything material this week is that I was traveling for work. Like most trips the days lasted from 7 a.m. until late in the night and on Thursday till the wee hours of the morning. While this trip included the normal torture on third quarter targets and plans it was also an opportunity to meet with the top performers on our sales team. Most of these folks are younger, some much younger, than me. I like meeting with them for much the same reason I enjoy working with young fly fishers. The energy and passion hasn't been beaten out of them. It is rejuvenating.
I've also got two stories to post. Marc Payne and I fished together last weekend. Marc is a crafty individual and suggested a very interesting approach which I hope you'll enjoy. We're going to collaborate on the story. It should be fun. I also fished on July 4th with a two friends. A spectacular evening on the water and well worth telling. Both stories are late, late, late.
Go check out
Trying to Understand
on The Perfect Drift blog. A thoughtful piece on one man's struggle with personal responsibility for oil spills.
So, enough excuses about not writing. Enjoy your weekend. Look for some stories soon. Happy fishing.